Prajun Pradhan # 00
Almighty Captain!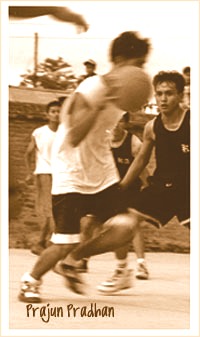 Class: Physics B (I.Sc 2nd year - 12th grade)
Height: 5'11"
Favorite footwear on the court: Nike, Reebok, Fila, Kamalhi (hatti chhap chappal when my shoes yearn for super glue or the cobbler)
Basketball Hero: Shaquille O' Neal, Michael Jordan, Scottie Pippen, Grant Hill & Prajun Pradhan (kidding) !
Basketball movies you've watched: White Men Can't Jump, Space Jam, Above The Rim, Eddie
Superstition: I don't believe 'superstition' plays any role when I step on the court. All I do is play with the attitude of a winner, abiding the rules in the true spirit of a sporstman (Reminds you of the Olympic Oath, doesn't it?)
Losing Line: 1. "Damn, I hate losing!" when the team loses badly.
2. "Shit!" (Repeatedly) when the team loses by a point or a close match
3. "We'll kick your fat *ss next time" when the opposition's too damn cocky
The first thing you normally do when you win: It comes in stages:
1. SMILE and raise my hands in the air, "#1 BABY!"'
2. Shake hands with the foes
3. Thank the Refs (only if they're not bias)
4. Throw up a party provided that I have enough dough
5. Go home, take a shower, eat up as much as I can, sleep for at least 15 hrs
How you feel about being in the college team: It's fun. I enjoy playing for the HOOPS a lot!
[] [Ankur #8] [Ashish #12] [Rohan #16] [Raghav #23] [Brijesh #25] [Atul #33] [Nabin #46] [Sujan #50]
[Hoops Main Page]