Nabin Bahadur Basnet # 46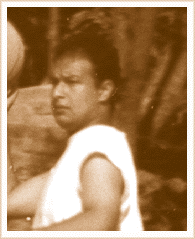 Class: Biology A (I.Sc. 2nd year -12th grade)
Height: 5'6"
Favorite footwear on the court: Hi-Tec/Black Belt
Superstition: Maybe I do, but I can't remember 'em right now..
Losing Line: Usually nothing. To tell you the truth, I've never seen Hoops defeated. (he! he!)
What you do when you win: Walk out of the court (happy). If not, then sit down in the middle of it.
How you feel about being in the college team: Good... I couldn't think of a better word.
[Prajun #00] [Ankur #8] [Ashish #12] [Rohan #16] [Raghav #23] [Brijesh #25] [Atul #33] [] [Sujan #50]
[Hoops Main Page]