Atul Pokharel # 33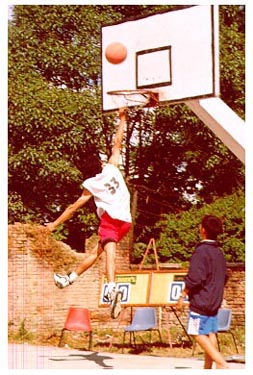 Class: Biology A(I.Sc. 2nd year -12th grade)
Height: 5'11"
Favorite footwear on the court: Fila
Basketball Hero: Grant Hill
Basketball movies you've watched: Space Jam!
Superstition: If I think too much about winning or losing, we usually lose.
Losing Line: What I say is conditional:
Just lose: "They played a little better"
Lose: "We didn't play our game"
Lose big time: "They played better and we didn't play our game"
What you do when you win: Tell myself that I did well and remind myself that I can always do better. Then, I celebrate.
How you feel about being in the College Team: Glad.
[Prajun #00] [Ankur #8] [Ashish #12] [Rohan #16] [Raghav #23] [Brijesh #25] [] [Nabin #46] [Sujan #50]
[Hoops Main Page]